Hey there, smutbase here!
🍬  🍩  🍉  🍨  🍪
A victim of The Great Tumblrpurge, so it's time to spread some tasty smuts here aswell.
I've been making nsfw content mainly focusing on various fandoms since 2016.
Made r34 content of: Warframe, Venom×SpiderGwen, Fallout4, Mass Effect, Borderlands2, Xenomorph, For Honor.
🍭
I'm more popular for my Venom×Spidergwen pairing artworks and Warframe pieces.
All in all, I'm aiming for a more humourus, cute, sensual and censored, mysterious type of tasteful smuts. Love to use innuendos and faceless characters. Also into sweet monsters, fine details, spot on colours and nice bodylanguage.
Mainly drawing, occassionally making animations or 3D pics.
🍰

I'm also at Patreon, Hentai-Foundry, Pixiv, and have a sfw Tumblr and Twitter.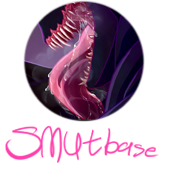 💀
Smutbase @ tumblr: June 25 2016 - Nov 19 2018